What we do?
Bespoke Tour Package designers, Vacation Consultants
With the proliferation of online booking channels, selecting a Travel agent and Travel consultant can frustrate and even perilous in the digital world. Take the hassle out of your Vacation planning. At Aaditya Tours, we peruse your Travel needs and handcraft a comprehensive vacation plan that you will love. Not just planning, but with integrity, dedication and the ability to follow through, we create an exceptional vacation filled with reminiscences – an art that is best left to true travel consultant.
Our Mission
To Provide the most indelible Vacation reminiscences to the ardent Travel enthusiasts
Why decide on Aaditya?

Customized Vacations
Trip planning sometimes can be a vexing task. Tell us about how your ideal vacation should be. With our expertise and your insights, We craft and construct a perfect Tour itinerary ensuring everything meets your needs and requests. Ultimately, it is your vacation!

Unsurpassed Partners
Our unsurpassed associates around the world enable us to arrange every single element of a trip - from meet and greet , transfers, accommodation bookings, and sightseeing tours.

Impeccable Orchestration
At this stage, our entire focus is on making your Vacation experience incredible. We now know exactly how to get you from point A to point B as efficiently as possible. As we collaborate with our associates to ensure your flawless vacation, you Unwind until the day comes to pack your bags and experience your exuberant reverie vacation.
Leadership
Rightfully owned by Krishnapriya and Rajagopal Menon - a Generation X/Digital Immigrant Couple and Travel aficionados.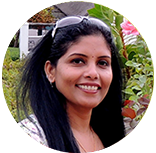 S.Krishnapriya
Founder & CEO
I am passionately a Self-motivated and Growth-minded entrepreneur focusing predominantly on Customer centricity. A travel aficionado, I naturally enjoy traveling all over the incredible world.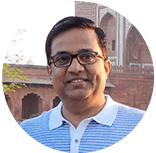 V.Rajagopal Menon
Director - Business Development
I am a Hotelier and an Entrepreneur with more than two successful decades of industry experience who genuinely believes Customer Service is undoubtedly the centric for any sustainable business.

What our customers say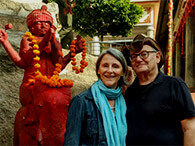 we thank you again for the wonderful Job you and your wife have done for the best travel we could experience in India by visiting Vishakapatnam, ...
Annemie & Jacques, Germany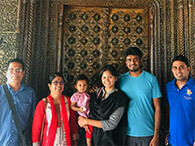 Thank you for the arrangements. Overall, the trip was good and smooth as planned. Our family has enjoyed the trip. I will recommend Aaditya Tours ... India.
Rubhen, Malaysia