City of Lights, Paris in Western Europe is seductive with its fabulous architecture, an enviable legacy of style and design, world-class museums, Michelin-starred restaurants, trendy boutiques dotted all over every arrondissement and above all, timeless. Visit to the most iconic symbol of Paris - The Eiffel Tower and cruising on the River Seine is the ultimate indulgence.
Aside from chocolate and cheese, incredible Swiss watches, cuckoo clocks, Switzerland's beloved Rolling hills, the majestic snow-capped peaks of the Alps, Picturesque cities, Alpine villages, serene lakes, make Switzerland an exhilarating destination paralleling that of a fairy tale. Use this seven-day Paris-Switzerland itinerary as the prototype or create your own tailor-made journey of a lifetime. With a wide variety of sightseeing opportunities and an extensive to-do list, we at Aaditya Tours and Travels can offer you expert advice and make your semi-independent trip to Paris-Switzerland, a truly unforgettable one.
Paris - Switzerland Tour
Paris-Switzerland Package Cost
Paris - Switzerland Tour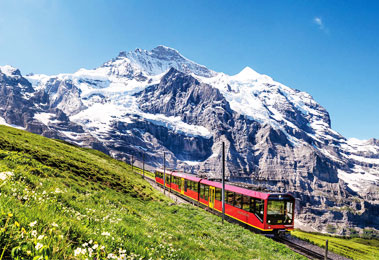 AAD-FS07 | Best of Paris & Switzerland Tour
6 Nights / 7 Days
Paris, France
Interlaken
Mt. Jungfraujoch
Lucern
Mt. Titlis

Airport Pickup

Hotel
Arrive into Charles de Gaulle Airport (CDG) Airport, Paris.
Immigration formalities & Baggage collection.
Private Airport Transfer: Paris To Charles De Gaulle Airport (CDG) to a hotel in the City Center.

Our driver will pick you up in Paris CDG Airport. He will be waiting with a placard with the lead passenger name at the arrival hall / pick up point in CHARLES DE GAULLE AIRPORT.

Arrive at Hotel. Check in to Hotel as per the Standard Check in time.
Rest of the day is free for acclimatization.
Stay overnight at Hotel.

Hotel

Breakfast

Sightseeing
Have breakfast at Hotel.
Proceed for a Paris City Tour By Minivan, Seine River Cruise And Lunch At The Eiffel Tower (8hrs)

Our associate guide will pick you up at your hotel in Paris. He will meet you at the lobby.
Pass By: 8th Arrondissement, Paris France
Pass By: Grand Palais, 3 avenue du General Eisenhower Avenue Winston Churchill, 75008 Paris France

The journey will start by passing some cultural attractions like the Grand Palais and Musée d'Orsay while you listen to onboard narration.

Pass By: Pont Alexandre III Quai d'Orsay, 75008 Paris France

Such as the majestic bridge facing the Invalides.

Pass By: Louvre Museum, 99 rue de Rivoli, 75001 Paris France

Other sights on your Paris City Tour include the Louvre Museum, La Madeleine Church, Opera, Vendome Square, the Arc de Triomphe and Champs-Elysées.

Pass By: Montmartre, 75018 Paris France

The next stop on your tour is Montmartre and its many sights.

Pass By: Place du Tertre, 75018 Paris France

Artists and cobblestone streets in the lively square where Picasso and many others well known artists used to be seen.

Pass By: Basilique du Sacre-Coeur de Montmartre, 35 Rue du Chevalier-De-La-Barre, 75018 Paris France

You have free time here to wander around on your own and snapping photos of Paris from the hilltop Basilique du Sacré-Coeur.

Pass By: Eiffel Tower, 5 Avenue Anatole France, 75007 Paris France

Your personal tour then takes you to Paris' iconic Eiffel Tower, where you will be served lunch in the lovely setting of the 58 Tour Eiffel restaurant: 95 meters (311 feet) above ground level, with scenic views over the Seine to the Trocadero from the restaurant's large picture windows.

Pass By: La Defense, Bairro de la Defense Bairro, 92400 Paris France

Admire the whole Paris such as the business area with its white arch.

Pass By: Arc de Triomphe, Place Charles de Gaulle, 75008 Paris France

Even impressive monument far away.

Pass By: Cathedrale Notre-Dame de Paris, 6 Parvis Notre-Dame Place Jean-Paul II, 75004 Paris France.

After lunch, your small group tour of Paris continues with a visit to outside of Notre Dame Cathedral and its area.
Stop At: Seine River, 75001 Paris France

Your cruise along the historic Seine River takes you past the buildings and monuments that have shaped Paris' history.
Duration: 1 hour
Pass By: Conciergerie, 2 Boulevard du Palais, 75001 Paris, France

Admire some stunning gems along the River Seine.

Pass By: Pont des Arts, River Seine Between Institut de France And Palais du Louvre, Paris France

Cruising under some beautiful and splendid bridges.

Pass By: Pont d'Iena, 75007 Paris France

The tour will return back at the foot of the tower where you could still take some more photos.

Pass By: 1st Arrondissement, Entre Rues Etienne Marcel, des Petits Champs, Daniele Casanova, des Capucines et Quais des Tuileries, François Miterrand, du Louvre, de La Mégisserie, 75001 Paris France.

Our associate guide will take you back to your hotel at the end of the excursion.
Stay Overnight in Hotel.

Hotel

Breakfast

Eurail
Have breakfast at Hotel.
Check out Hotel.
Private Transfer: Paris Hotel To Any Railway Station.
Board a Train from Paris to Interlaken Via Basel (1 stop).

12:22 PM PARIS GARE LYON
03:26 PM BASEL SBB
03:58 PM BASEL SBB
05:51 PM INTERLAKEN WEST

Arrive into Interlaken by evening.
Walk to the Hotel. Check in.
After having checked in at your hotel, the rest of the day is free to explore Interlaken on your own.

Interlaken- a Mecca for visitors with its spectacular scenery.
As the name suggests, Interlaken is situated on a narrow strip of land between two lakes, Lake Thun and Lake Brienz, both of which are fed by the River Aare.
With its position at the heart of the Bernese Alps, and surrounded by crystal clear lakes, Interlaken is a paradise in central Switzerland. Interlaken is often referred to as the adventure capital of Switzerland.
Höhe Matte is a large open park in the heart of Interlaken with a backdrop of the snow-capped Eiger, Jungfrau, and Mönch. It's a popular gathering place and the landing spot for paragliders and hang gliders.
Day at leisure to explore Interlaken's Hoheweg – an inviting 700-meter long boulevard with hotels, cozy cafes, fashion boutiques, watch and jewellery stores. As dusk draws near, admire the mountains by taking an optional dinner cruise on Lake Brienz (from May to August only).

Stay Overnight at Interlaken.

Hotel

Breakfast

Sightseeing
Have Breakfast at Hotel.
Proceed for a Sightseeing of Mt. Jungfraujoch – Top of Europe

This memorable train trip from Interlaken Ost takes you via Lauterbrunnen and Wengen to the Kleine Scheidegg, at the foot of the famous Eiger North Wall. (approx. 1.5 hrs).
The famous Jungfrau railway takes you to the highest station in Europe (approx. 1 hrs).

A day of fun and excitement is awaiting you in the captivating snow peaks of Jungfraujoch – Top of Europe (3'454 m/11'333 ft).
Visit the Ice Cave with its ice formations or else explore the snow on the glacier. You find a range of international restaurants on the Jungfraujoch.
Visit Sphinx Terraces offering breathtaking views of the Aletsch Glacier, the longest glacier in the Alps.
Return to Interlaken (approx. 2.5 hrs) by train with an optional stopover in Grindelwald.
Stay Overnight at Interlaken.

Hotel

Breakfast

Eurail
Have Breakfast at Hotel.
Check out Hotel.
Proceed to Train Station. Board the scenic-train that takes you to Luzerne.
Arrive into Lucerne.
Walk to the Hotel and Check in.
Enjoy Luzern with its beautiful view to the mountains. Walk along the Lake Luzern or go shopping in the old part of the city.

Lucerne, the gateway to central Switzerland, sited on Lake Lucerne, is embedded within an impressive mountainous panorama.
Thanks to its attractions, its souvenir and watch shops, the beautiful lakeside setting and the nearby excursion mountains of the Rigi, Pilatus and Stanserhorn.

Stay Overnight at Lucerne.

Hotel

Breakfast

Sightseeing
Have Breakfast at Hotel.
Proceed for a Sightseeing of Mt. Titlis at an altitude: 3062m a.s.l (above sea level)

Travel by train to Engelberg (approx. 1 hr).
Experience the world's first revolving cable car that takes you to the top of Switzerland's highest vantage point Mt. Titlis with a breathtaking 360-degree view (approx. 45 mins).
The excursion up Titlis is a real treat. The new gondola TITLIS Xpress leads up to the intermediate station. Then TITLIS Rotair, the World's first revolving aerial cableway, continues all the way to the top.
At the summit of the 3000-meter mountain, a breathtaking panorama, as well as other highlights, await – various restaurants with sun terraces, the Glacier Cave (free admission), the "Titlis Cliff Walk" – Europe's highest suspension footbridge – and of course eternal snow and ice. On the glacier chairlift "Ice Flyer" visitors literally fly over the Titlis glacier to the Glacier Park, a free attraction.
Attractions & Activities:

Glacier Cave, suspension bridge, glacier chairlift, snow park Trübsee (snow tubing), rowing boats on Lake Trübsee, the Jochpass Trail is a flow trail suitable for beginners and experienced cyclists, Trotti bike scooters from Alp Gerschni, four-lakes hike to Alp Engstlen and to Melchsee-Frutt.
In the evening, you return to Luzern (approx. 2 hrs).
Stay Overnight at Lucerne.

Breakfast

Eurail
Have Breakfast at Hotel.
Check out.
Proceed to Train Station to board train to Zurich International Airport (ZRH).
Identify the designated Terminal / Gate to board homebound flight.
Paris-Switzerland Package Cost
Package Cost: INR. 120,999* Per Person
Package Cost Includes:
Airport / Railway Station Transfers

Private Airport Arrival Transfer in Paris – From CDG Airport to a City Hotel.
Railway Station Drop – From City Hotel in Paris to North Paris Railway Station.

Accommodation with Breakfast

2 nights accommodation in a Standard Double Room at Hotel Capitol Eiffel (3*) or similar in Paris with Breakfast.
2 nights accommodation in a Standard Double Room in a 3* Hotel in Interlaken with Breakfast.
2 nights accommodation in a Standard Double Room in a 3* Hotel in Lucerne with Breakfast.

Excursions to

Paris City Tour By Minivan, Seine River Cruise And Lunch At The Eiffel Tower (8hrs)

Round-trip transportation from your Paris accommodation.
Guided city tour on the history of Paris's neighborhoods, monuments and other highlights.
Visit and free time in the district Montmartre, a mystical village in Paris.
French Style Gourmet lunch in Transparent Dome at the Eiffel Tower.
One hour commented cruise on the Seine with recorded commentaries and personal earphones available.
Excursion by minivan in a small group of 8 people maximum.
Service of an experienced driver guide.
Departure from our central located agency in Paris as from April 01st 2020.
Entry/Admission – Seine River.
Excursion to Jungfraujoch in Conjunction with Swiss Rail Pass.
Excursion to Mt. Titlis including ice flyer chairlift in Conjunction with Swiss Rail Pass.
Train / Rail Pass
4 days 2nd class Swiss Travel Pass. – Swiss Pass travel in 2nd class which will allow you unlimited usage of entire Swiss Travel System i.e. trains, trams, postal coaches and cruises during your stay.
Sector Tickets from Paris to Interlaken & Lucern to Zurich.
Applicable taxes in France / Switzerland as on Date.
Package Cost does not include:
GST.
International Air Tickets.
Schengen Visa Fees (Applicants are advised to visit VFS Center to submit their Biometrics.
Overseas Travel Insurance.
Welcoming at Airport / Airport Transfers in Switzerland.
Guide during the Tour in Switzerland.
Some hotels may charge a local city tax on spot : approx. CHF 2-4 per person / night.
Lunch and Dinner / other meals wherever not specified.
Any Variance in the Air Fare at the time purchasing .
Any Variance in the Land Package quoted in INR based on the Rate of Exchange on the date of Payment.
Peak Season Surcharges if any applicable.
Change in the Order of Itinerary / amendments as per Personal Interests / Convenience.
Incidental Expenses due to Natural Calamities / Weather disruptions / Fight Cancellations / Flight delays/ War/ Strike / Fire / Acts of government / Riot, etc.
Expenses of personal nature such as Room service, Bar, Alcoholic beverages, A la carte meals, Dry cleaning, Laundry, porterages, tipping, etc.

Disclaimer: INR Prices shown are subject to Foreign exchange rate fluctuations and are subject to revise. While we endeavor to keep the pricing relevant, the website might not have updated with the current pricing at all times. Please call or use the Request Quote form for an accurate package cost for your requirement.
Frequently Asked Questions